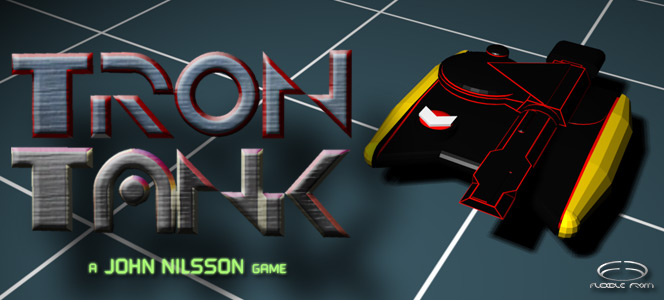 GREETINGS PROGRAMS!
Inspired by the movie TRON from Disney, the game TRONTANK lets you finally take control of one of those cool tanks - not even in the game TRON 2.0, you can do this!
The only game mode available in the demo is "Kill the Process" (Deathmatch, which is the default game, no matter what the option screen says). However, it is possible to remove "Ammo Areas" and "Repair Areas" in order to make things a bit tougher.
There is no AI in the demo, so you have to have a real person sitting next to you controlling the other tank in order to get a real showdown. Key chart below.
Remember to press F12 to "reset" the game after a kill!
WATCH GAME INTRO ON YOUTUBE!
DOWNLOAD DEMO:
trontank.zip (12MB, just unzip in a folder of your choice and double click trontank1024f.exe!)
If you get low framrates, load the file in Blender (version 2.25 and ignore the load error) and set new width and height and save as a new .exe-file. (Also if you do any other changes, remember to have "loadintro" as your current scene and the first layer active when you save it again - it is saved as a dynamic exe.)
MINIMUM SYSTEM:
1 GHz with a Geforce2 (or equivalent).
RECOMMENDED SYSTEM:
1,8 GHz with a Geforce3 (or equivalent) or better.
HOW TO PLAY:
Each player is supposed to use the right hand to control the tank (ie the right index finger on R) and the left hand to control the turret and fire (ie the left index finger on X). It can be hard to control the turret in the beginning so you can just skip this at first.
CONTROL KEYS
(not included within the game at this time)

:

F1: Option Screen
F12: Restart Game (not from 1st intro)
Esc: Quits the game (without confirmation!)
| | | | | |
| --- | --- | --- | --- | --- |
| | TANK 1 | TANK 2 | TANK 3 | TANK 4 |
| FORWARD | R | Num 8 | N/A | N/A |
| BACK | F | Num 5 | N/A | N/A |
| LEFT | D | Num 4 | N/A | N/A |
| RIGHT | G | Num 6 | N/A | N/A |
| FIRE | X | Down | N/A | N/A |
| TURRET LEFT | Z | Left | N/A | N/A |
| TURRET RIGHT | C | Right | N/A | N/A |
Observe that the "right" player uses the numpad and arrows to control the tank.
Due to problems with the character buffer being filled, tank 3 and 4 is not defined, and also - it is a bit cramped to play four people at the same keyboard!
INTROS:
The first intro you should be able to skip with just a key press, but the second one you can't skip.
SCREENS:

CONTACT:
END OF LINE...